IFRS Latest Amendments and Updates |16 December
Keep up to date with IFRS standards effective in 2023 & 2024. Ensure that you communicate their impact to your stakeholders.
Presentation will include:
Discuss latest amendments and updates.
Changes effective from 2023
Changes effective from 2024
IFRS for SMEs update
Disclosure requirements
Who is this presentation for?
For all levels within the Finance Department and especially for financial reporting professionals.
Date: Saturday, 16 December 2023
Time: 6pm (Bahrain)
CPD: 1.5 hours
Price: Free

---
About the speaker 
Sulman Ihsan FFA FIPA, PAA, CFM, Bachelor of Commerce
Regional Director and International Representative, Saudi Arabia & Bahrain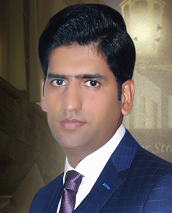 Sulman Ihsan is a qualified accountant and IFRS practiced with more than 12 years of diversified experience in the field of accounting, finance, and assurance services. He is a fellow member of Institute of Financial Accountant (IFA) of U.K and Institute of Public Accountants (IPA) of Australia. 
Currently, he is working as Manager in Farabi Petrochemicals Group and managing IFRS & management reporting, compliance, planning and analysis. Formally, he worked with a Big 4 accountancy firm, EY and BDO International across the Middle East, Pakistan, and Afghanistan. He gained solid experience of IFRS conversion & compliance, assurance, internal control and tax and zakat reviews in different industries including petrochemicals, oil & gas, telecom, power & utilities, manufacturing etc.
In addition, he is also appointed as a Regional Director of Institute of Financial Accountants (IFA) in Kingdom of Saudi Arabia & Bahrain.