Conferences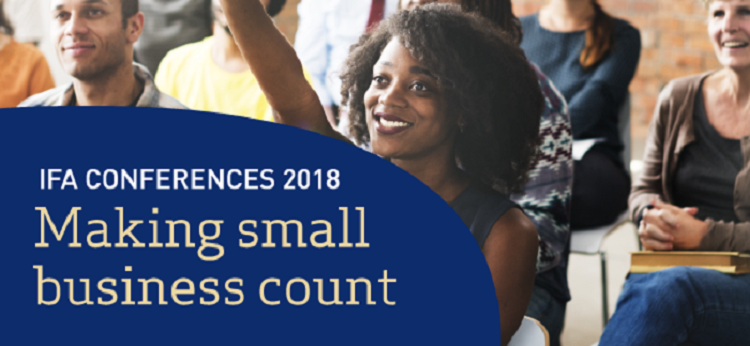 This year's IFA conferences will cover making tax digital, an owner managed business tax update, payroll tips, the importance of making customer service the cornerstone of your business and financial wellbeing for you, your clients and your employees.
This year's programme:        
1. Making Tax Digital for Business (MTD) – where are we up to?  What comes next?
From April 2019, VAT Registered businesses with a taxable turnover above the VAT threshold must keep their business records digitally and submit their VAT return through compatible software. Businesses and landlords are also volunteering to report Income Tax through software instead of filing a Self- Assessment tax return.  This session will give you the latest information to help you get ready for the move to digital. 
2. Join the Revolution 
To accelerate you need to know where you are, where you are going and how to get there. Then you need to be fanatical about delivering through your business model and culture and remember that customer service is crucial to creating fans.  

3. The growing importance of financial wellbeing
More than a quarter of UK businesses are suffering because their employees worry about money. Money worries are one of the biggest factors causing stress among people in the UK. Whilst many UK businesses have well developed strategies to look after the physical health and safety of their workers and in recent years more are recognising the need to support mental health, financial wellbeing is lagging behind as the missing piece of UK wellbeing strategies. This is hurting business performance as well as individuals' financial security.  
4. Top Tips for Getting the Payroll Right 
In this session Linda Pullan will provide employers with her top tips for getting the payroll right.  How to avoid the common errors and pitfalls in payroll. This will include subjects such as National Insurance, Student Loan deductions, statutory payments, RTI, NMW/NLW and Working Time. With fraud at an all time high, she will also pass on her tips on how to prevent payroll fraud.  
5. Topical issues faced by corporation tax practitioners  
Delegates will be made aware of important changes to the legislation over the past year, have a recap of existing rules, and learn how to deal with some common pitfalls and danger areas that affect companies. The talk will cover substantial shareholding exemption, loss relief – an overview of the rules following the changes on 1 April 2017, intra-group transfers of assets – corporation tax relief and impact of stamp taxes, liquidations – the impact of the TAAR and transactions in securities and loans to participators.