Anti-money laundering: a practical introduction
Workshop summary
Accountants are key gatekeepers for the financial system. As such, they have a significant role to play in ensuring their services are not used to further a criminal purpose. They must comply with the anti-money laundering legislation and guidance to minimise risks to themselves, their firm and the reputation of the accountancy profession.
This practically focused workshop explores:
what money laundering is
why it is important you understand the Money Laundering Regulations
the trickier aspects of regulatory obligations e.g. firm risk assessment, CDD, Suspicious Activity Reporting ensuring you have the appropriate procedures in place to be compliant with the regulations
your responsibilities as an accountant.
Book a workshop near you today
Workshop outline

Accountants obligations and consequences for failure to meet these obligations
Recent changes to the Money Laundering Regulations
Supervisory duties, approach and OPBAS
Findings from IFA AML monitoring visits
Client due diligence
Firm risk assessments
Suspicious Activity Reporting
Insight into future developments such as the Companies House reforms, Uks Economic Crime Plan and 6th Money Laundering Directive.
Who is this workshop for?
This comprehensive workshop is designed for those working in an accountancy practice. While you don't have to be an accountant to attend you should be involved in the provision of accountancy services for reward.
What attendees say
''I feel the workshop was the most relevant I have ever been on and feel that every IFA member who has their own practice should attend. It was also nice that the team presenting the workshop seem to fully understand the Issues that us as accountants have in practice and were very supportive to assist throughout the day.'' Mark Boxall, IFA member.
''I know practitioners are always very busy and probably don't pay much attention to their own practice management… I am of the opinion that practitioners are not fully aware of their obligations. I will encourage IFA members to attend [the workshops] and am sure members would benefit.'' Amlan Ghoshal, IFA member.
About the speaker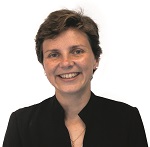 Anne Davis, Director of Professional Standards, IFA
Anne has responsibility for regulation, policy, disciplinary, AML and making representations in response to consultations affecting the profession.
She is a chartered accountant and has a wide range of experience in management and financial accounting, project management, system implementation, policy and regulation. Anne has worked in retail, financial services and the not-for-profit sector. She is also a trustee for a couple of charities.