Making tax digital
Check which software packages are compatible with Making Tax Digital for VAT

HMRC's tool for software selection for MTD VAT
Background
In December 2015, HMRC published the Making Tax Digital Roadmap and announced that the government would consult on options to simplify the payment of taxes, align payment arrangements and bring payment dates closer to the time of the activity or transactions generating the tax liability.

The extract below from the forward of the Making Tax Digital Roadmap provides an indication of HMRC's vision for this project:

"By 2020, HMRC will have moved to a fully digital tax system where:
bureaucratic form-filling is eradicated — taxpayers should never have to tell HMRC information it already knows; 
unnecessary time delays are eliminated — the tax system operates much more closely to 'real time', keeping everyone up to date and removing the risk of missed deadlines, unnecessary penalties, debts arising and errors in the system being carried forward from one year to the next; and 
taxpayers have access to digital accounts — with the information HMRC needs automatically uploaded, bringing an end to the tax return. 
These reforms will transform the experience of millions of taxpayers. More detail about how these reforms will be implemented, and some aspects of their design, will be the subject of further consultation. These consultations will give stakeholders and customers the opportunity to contribute to this work and shape tax administration for a generation to come."
Foundations of the Making Tax Digital Strategy
The transformed tax system of 2020 is built on 4 foundations, summarised by this extract from the Making Tax Digital Roadmap.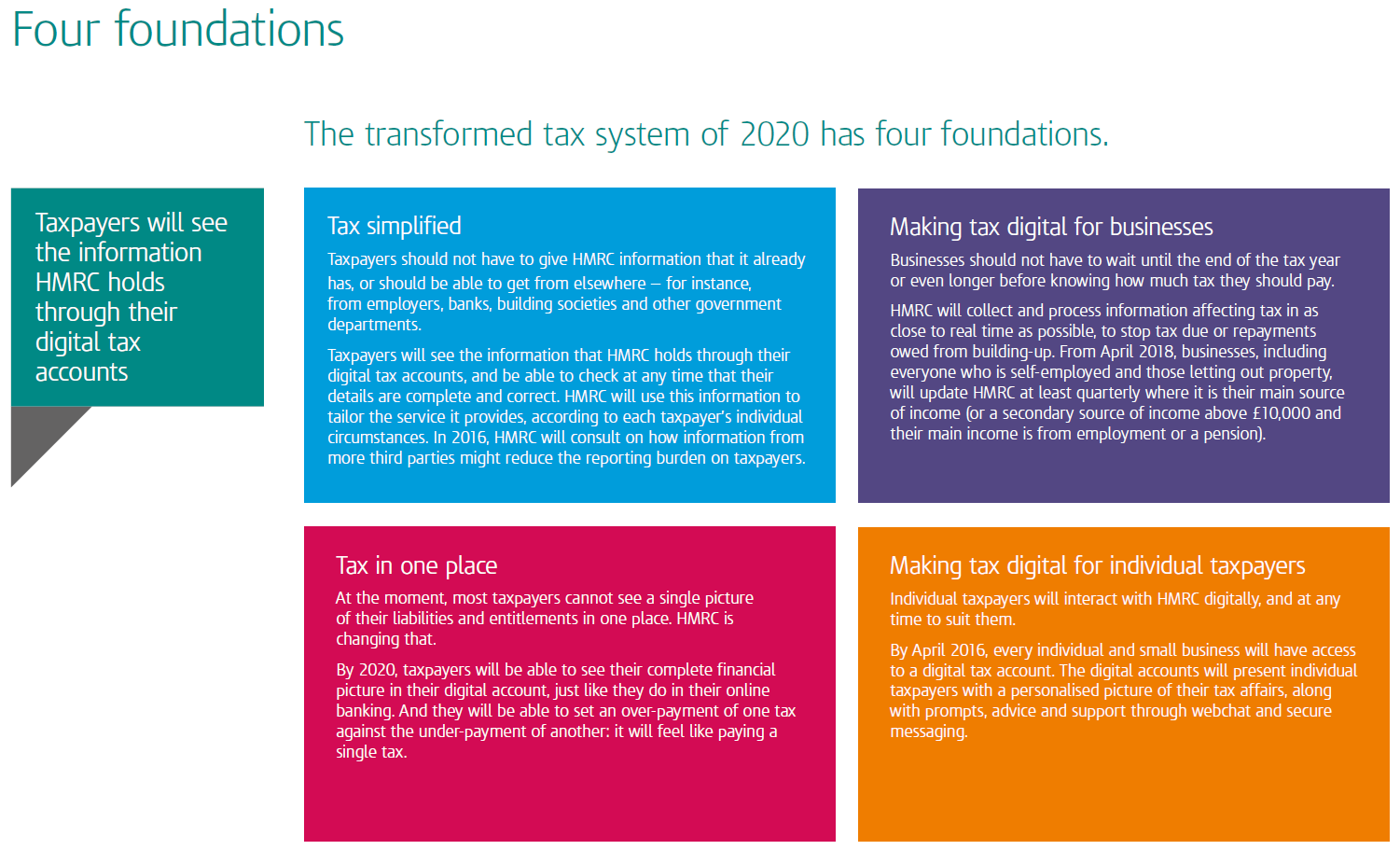 Timescales
HMRC's high-level timescales are summarised as follows:
"By 2016, every individual and small business will have access to their own secure digital tax account, like an online bank account, that enables them to interact with HMRC digitally. There's much more that HMRC can do with today's technology to make tax easier, transforming tax administration into a personalised service, tailored to the needs of each taxpayer.

By 2020, businesses and individual taxpayers will be able to register, file, pay and update their information at any time of the day or night, and at any point in the year, to suit them. For the vast majority, there will be no need to fill in an annual tax return."

The back of the Making Tax Digital Roadmap contains more details on timelines over the course of the next 5 years, which includes changes to be made to the use of data, the use of digital tax accounts, consultations and testing of new systems.
The move to digital: initial concerns
Some of the areas of concern that have arisen on this initiative are as follows:
submission of quarterly income and expenditure information to HMRC. According to HMRC, this does not mean that quarterly tax returns will be required. However, as yet, we have no details on the content of these submissions and whether they will be at a summary or transactional level. In addition, it is unclear how the quarterly reports for tax will be reconciled to the annual tax returns. 
there is likely to be an increase in the regulatory burden for SMEs due the requirement of submitting quarterly income and expenditure information to HMRC.
unclear how tax agents will access the same information as is available to clients. HMRC is currently developing the services it makes available online to Tax Agents in its Agent Online Self-Serve (AOSS) which is currently being tested. 
the implementation timetable outlined in the Making Tax Digital Roadmap looks ambitious and challenging.
alternative channels of communication for those who struggle to use digital platforms.
In response to feedback, HMRC has provided some answers to these areas of concern in HMRC's Making Tax Digital: Myth-Buster.