Amjad Hussain Durrani - Regional ambassador, Karachi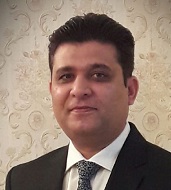 Amjad Hussain Durrani AFA MIPA
Karachi regional ambassador
Experience
I am an experienced finance, audit and assurance professional currently heading up the Internal Audit Department of Pakistan Industrial Development Corporation (PIDC), as Chief Internal Auditor. I have been associated with Grant Thornton Chartered Accountants, KPMG, Starcom Mediavest Group Dubai, Farmers Market-USA, Hashoo Group and National Fertilizer Corporation of Pakistan.
I am an Associate Member of the Institute of Financial Accountants of the UK, Member of the Institute of Public Accountants of Australia, Certified Internal Control Auditor - USA and a Certified Financial Consultant - Canada.
Interests
Reading and spending quality time with family.