IFA Direct

IFA Direct, administered in partnership with CU Coventry, provides a unique, flexible online way to study for those who want:
A direct route to IFA membership.
A direct route to career progression to obtain a practising certificate.
A direct route to professional development through CPD.
The online module approach provides a flexible and modern format. It allows you to study around other commitments regardless of where you are in the world and without having to be away from the workplace.
"The module format fits seamlessly into my busy working life and full-time practice, allowing me to study at times chosen by myself, whether this be evenings, late at night, or early mornings" Paul A King, IFA Direct student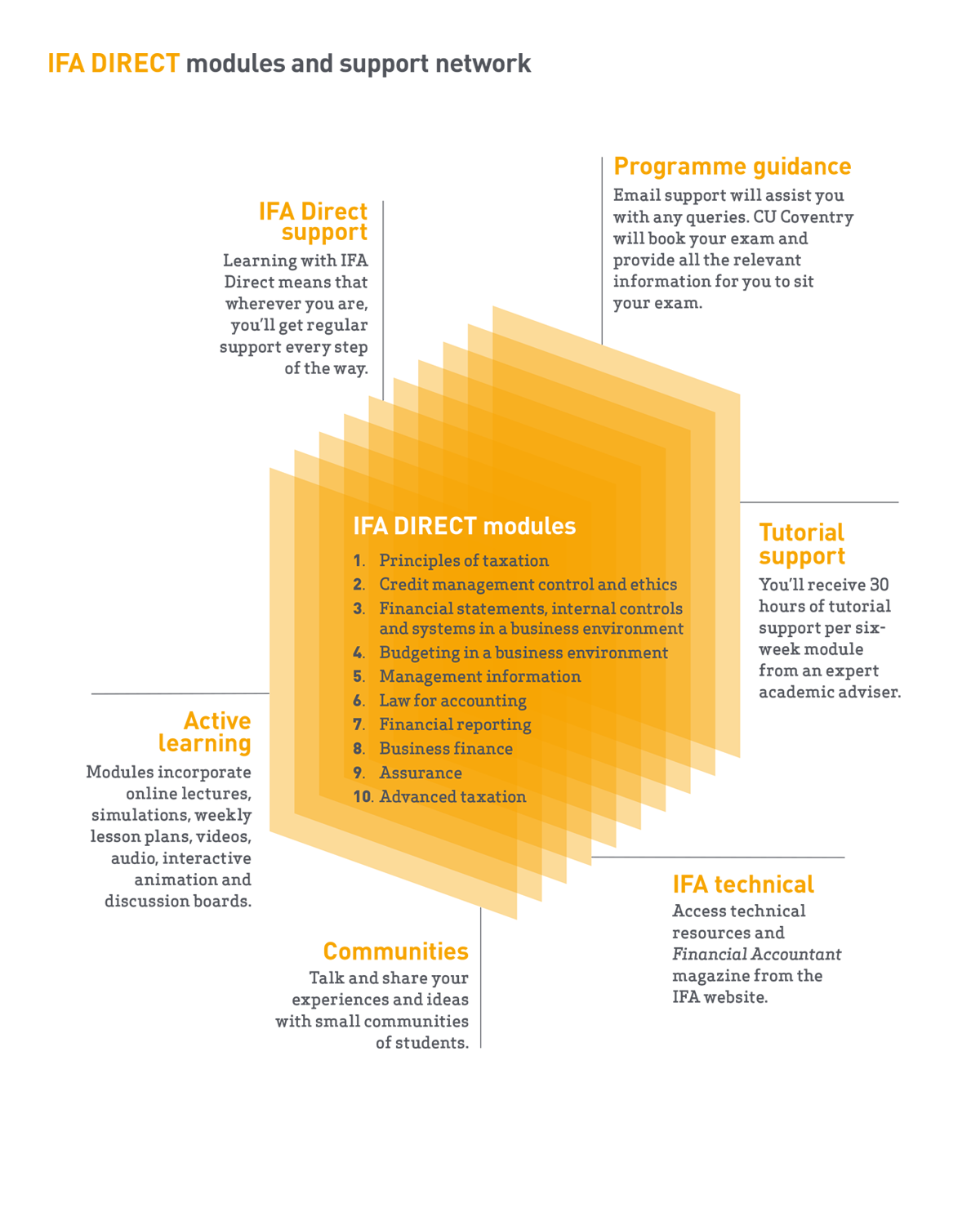 The rolling programme of focused modules are studied one at a time over six weeks via a secure learning environment so avoid the distractions of multiple deadlines. The programme is ideal for:
Part-qualified accountants seeking membership.
Employers wanting to develop their finance team.
Accountants entering into public practice who require an IFA practising certificate.
Tax agents wanting to progress to membership of the IFA as an Associate Tax Adviser.
CU Coventry
CU Coventry is part of the Coventry University Group. It delivers an innovative approach to higher education which allows you to fit studying around your busy life. Coventry University is ranked No 13 UK University by the Guardian University 2018.
IFA Direct webinar
This free recorded webinar by IFA Education Manager, Susan Divall, provides an overview of IFA Direct. It details how you can use the programme as a vehicle to obtain membership of the IFA, to obtain an IFA practising certificate or to use it for CPD purposes to enhance your knowledge in specific areas of accountancy or tax.