IFA Direct: online education programme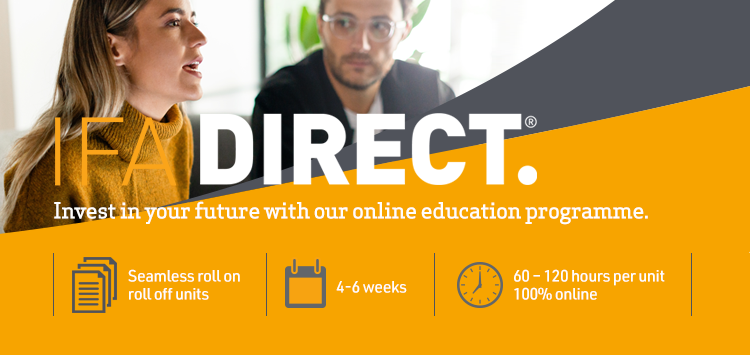 IFA Direct is for you if you want to:
Achieve IFA membership 
The IFA is a full member of the International Federation of Accountants (IFAC) the global accounting standard-setter and regulator. Membership delivers the enhanced professional recognition and career prospects that comes with being able to call yourself an IFA Financial Accountant or Tax Adviser. In addition, as an IFA Financial Accountant you will receive dual membership of the Institute of Public Accountants (Australia) and be able to use the designatory letters AFA/MIPA. 
IFA membership brings access to a community of like-minded professionals who benefit from supportive IFA regional networking events, expert technical materials and inspiring events and CPD workshops.  
Gain an IFA practising certificate

 (UK members only)
For UK-based members holding an IFA practising certificate means you can offer accountancy services to the general public and can do more than with many other associations and professional bodies. You'll also be able to undertake charity independent examinations and ATOL/Civil Aviation Authority work.   
Invest in continuing professional development
Investing in relevant and regular CPD is an important way to stay abreast of new developments and best practice in a fast-changing environment. It can boost your motivation and improve the quality of your work and the service you provide.   
Accessible 

Experience flexible but structured learning that you can plan around your life wherever you are in 

the world
Relevant  

   Enjoy a programme tailored for accountants working in or 

supporting 

SMEs or SMPs                                     
Recognised

Gain verifiable CPD and 

transferable 

credits from a global awarding organisation regulated by Ofqual 
Affordable 

Each unit costs £300* with a one-off learner membership fee of £50*

 (*

exc

 VAT)                                                 
IFA Direct brochure
Download the IFA Direct brochure